鳴海屋
ONLINE SHOP
PHILOSOPHY
For happiness that starts with rice.
Crispy and crunchy. From the moment you pop one in your mouth, the texture and authentic flavor of rice shines through. This sensation is our starting point. An experience from which you will never tire, no matter how often you indulge.
In the 100 years of Narumi-ya's cracker-making history, we have been part of Japan's evolving Fuudo (our natural environment and cultural landscape). Our crackers embody these elements: we use rice nurtured by the soil, water, and sun of Japan; paired with flavorful ingredients harvested from our seas and mountains.
By focusing on delicious ingredients, like Japanese rice, we aim to share the richness and diversity of the ingredients themselves, with people around the world and future generations. Collaborating with a number of producers across Japan, we are launching exciting new and tantalizing rice taste-sensations, to offer alongside our wide variety of traditional rice crackers.
We believe the smile that comes from each delicious bite is the power that connects people to each other, to farming and to life.
Continuing to Make Quality Arare for 100 Years and Beyond.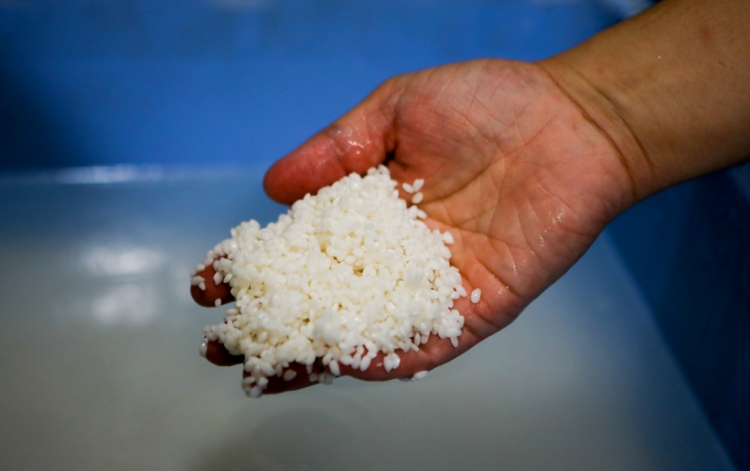 100 Years of History: The Origin of Traditional Kyoto Arare.
Kyoto Narumi-ya was founded by Saburo Narumi in 1923 as an independent subsidiary of the long-established Narumi Mochi. While the parent company specialized in mochi rice cakes and wagashi sweets Narumi-ya specializes in Kyoto arare.'Connoisseurs in mochi rice dough' the Narumi-ya expertise has been handed down in our family generation to generation. Our keen eye for quality has remained unchanged for 100 years and continues to be the backbone of our manufacturing spirit.
For us, the heart of our manufacturing is rice and rice dough, and the tradition of Kyoto arare, where rice is transformed into confectionery. Keeping true to our origins we continue our pursuit of ensuring the deliciousness of our rice crackers.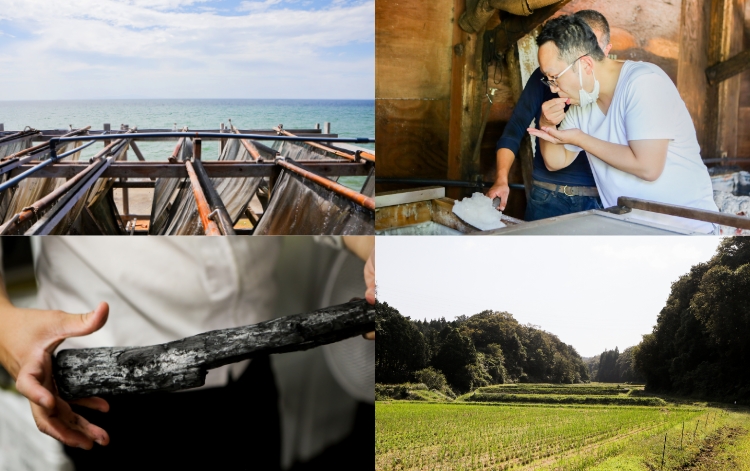 Taking Inspiration from All Things Rice to Create Joy from Rice.
100 years of tradition but also one 100 years of innovation. Our 100 year old tradition is the cornerstone of our continued search for new possibilities. We combine high-quality ingredients from exceptional producers, including our exclusive rice, with traditional Kyoto Arare making techniques. We then add a modern twist in pursuit of a taste we can be proud of; to bring new flavor sensations for our customers around the world to enjoy.
Focusing on our shared values we will continue to innervate for the next 100 years and more. We aim to be a 'creative factory that thinks from rice and enjoys from rice.'
Narumi-ya Time Line
1923
On 22 November Narumi-ya was established as an independent subsidiary of parent company Narumi Mochi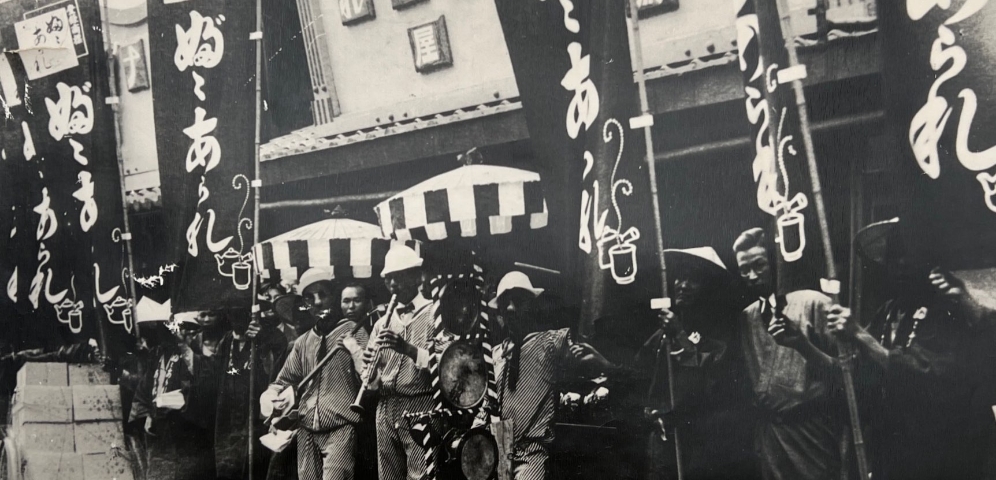 1945
Relocation to Matsuokinoso-cho Nishikyo-ku from Horikawa-dori due to war evacuations
1957
Narumi-ya becomes incorporated
1961
Narumi-ya's 'Golden Rice Cracker' won the Honorary President's Award at the Confectionary Expo
1965
Kaoru Narumi became the second president.
1968
Moved to 99 Nishi-Kaigawa-cho, Saiin, Ukyo-ku (current location)
1972
Rikitaro Narumi became the third president
1975
Introduction of the continuous flow ovens
1980
Introduction of a pillow pack wrapping machine
1983
Began manufacturing puffed rice
1984
Kenji Narumi became the fourth president Nori seaweed-wrapping machine installed
1988
Opened a factory-direct shop to coincide with the Kyoto National Sports Festival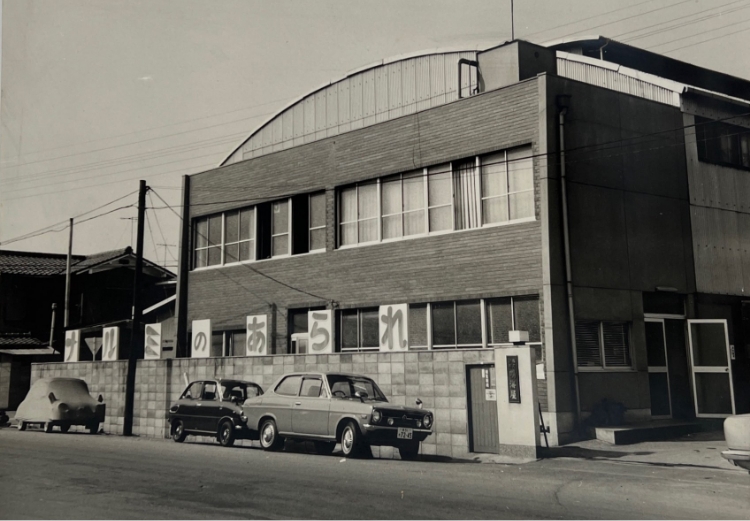 In the old days: Nishikyo-ku factory in Matsuokinoso-cho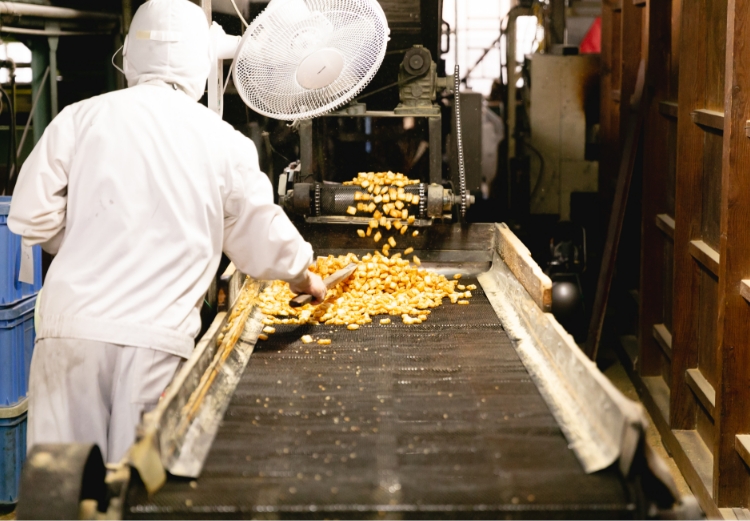 the continuous flow oven
1994
Introduction of bite-size mochi rice cakes
1997
Introduction of Kyo-no-tsudoi
1998
Introduction of Black Bean Kinako Okaki The baking oven is replaced by an oven with built-in infrared burners
2001
Closure of Horikawa Narumi-ya in Horikawa shopping archade
2003
Introduction of Kinako Arare
2004
Introduction of Arare Chazuke, seasoned with Japanese 7 Spice
2013
Installation of a new high-efficiency boiler with condensing economizer, reducing CO2 emissions by 13 tons per year
2017
Wasanbon Okaki selected as one of the 100 best products in Japan at the Food Action Nippon Awards 2017 (Organized by the Ministry of Agriculture, Forestry and Fisheries)
2018
Yuta Narumi becomes the fifth president
2019
Acquired Osaka Region food safety and security certification (certification no. 0063)
2019
Acquired KES Environmental Management System Standard STEP1 (Certification No. KES1-1493)
2022
Introduction of the Fruit Arare range
2022
Rebranding of website and packaging ahead of centenary celebrations
Fruit Arare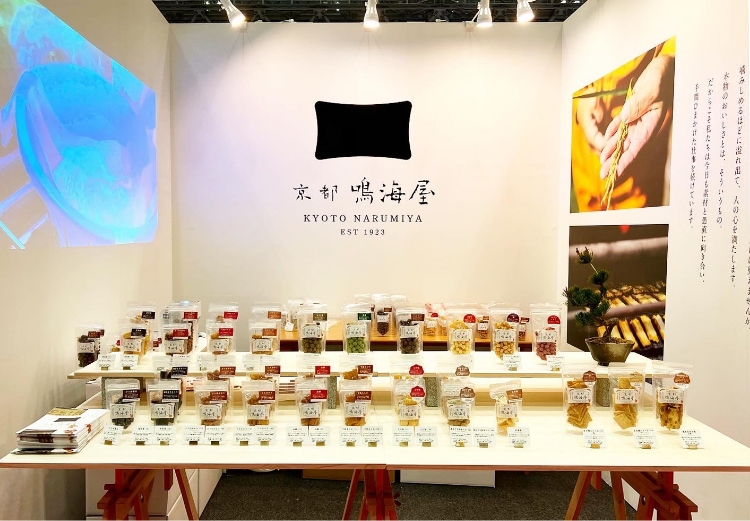 our new packaging design